Read Time:
5 Minute, 37 Second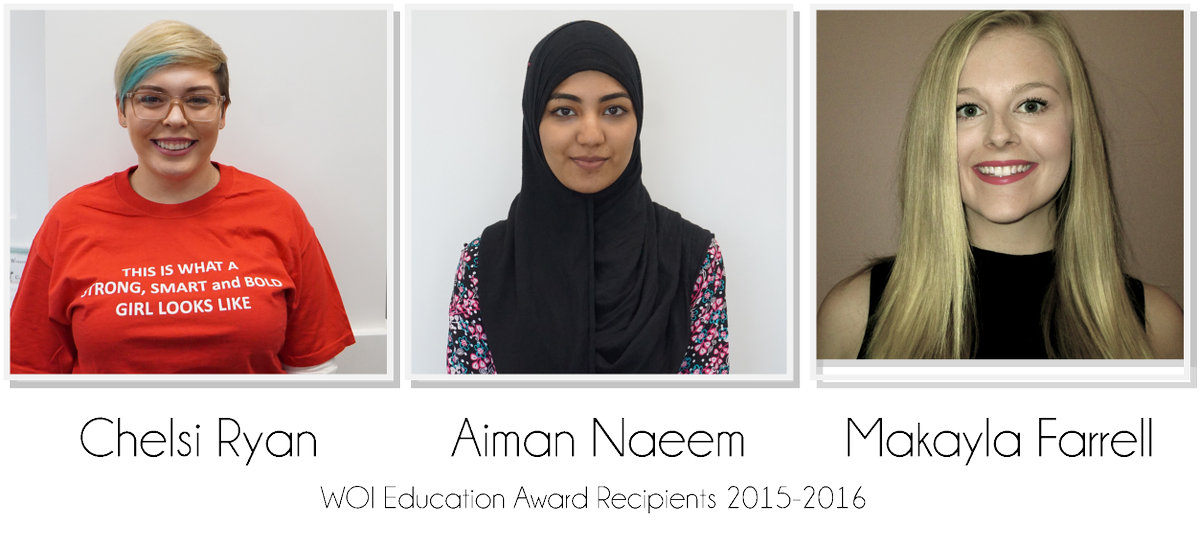 (Fort McMurray) Girls Inc. of Northern Alberta and Syncrude are proud to announce the winners of the Girls Inc. Women of Inspiration Education Scholarship for 2015-2016.
The three $5000 scholarships are being awarded to female students from the Regional Municipality of Wood Buffalo, who are pursuing a post- secondary education, be it through college, university or technical/trade school. This year's scholarships are being awarded to: Chelsi Ryan, Aiman Naeem & Makayla Farrell.
Chelsi Ryan 
Chelsi is born and raised in Fort McMurray and is currently enrolled at Keyano College in the Bachelor of Elementary Education. Her goal is to empower children to tackle things they never thought possible. While maintaining a GPA of 3.95, Chelsie worked a part time job and was very active in community service. As an intern with Junior Achievement, she teaches children about financial literacy and serves on the Student's Association of Keyano College and continues to run a local woman's wellness network called Her Mission.
Her Mission is a women's wellness network focused on bringing women together in pursuit of a healthy, happy lifestyle. They will be focusing on offering programming for the Second Stage Housing Clients of Waypoints, including yoga, guest speakers, etc. As Vice- President of External Affairs with the Student's Association, Chelsi advocates at municipal, provincial and federal government levels. Chelsi volunteers with the Board of Governors for the Alberta Students Executive Council, her local Education Student Union and the on Campus Alberta Open Education Resource Steering Committee.
Her future educator goals are to empower grades 7 and 8 to feel they can make a difference and to give them the confidence to do it.
For her outstanding commitment to her community, Chelsi was the recipient of the Barb Jewers Memorial Scholarship. Barb Jewers was one of the first Women of Inspiration nominees and was a strong community supporter who gave of her time with many organizations to make Fort McMurray a vibrant and healthy place to live, raise a family and call home. Ms. Jewers was an advocate of the United Way and served on their Board of Directors. From her international work to her community work, Ms. Jewers was truly a Woman of Inspiration. Ms. Ryan is following in those footsteps with her commitment to her community and as such is deserving of the distinction of being the first Barb Jewers Memorial Scholarship winner.
Aiman Naeem
Ms. Naeem wishes to combine her love for mathematics, passion for science and dedication to helping others by pursuing biomedical engineering. She will be attending the University of Alberta where she will studying both chemical and biomedical engineering. Her dream is to assist in the development of health care and improvement of the lives of people in need of medical technology.
Ms. Naeem is an avid volunteer and gives hundreds of hours each year to the non- profit sector. She was an active member of the Mayor's Advisory Council on Youth, she was elected Manager of Health and Safety for the city's Junior Achievement Company Program. Ms. Naeem was inspired to embark on a social profit endeavour known as Artists Against Poverty. In partnership with the Arts Council of Wood Buffalo and the United Way, this organization is dedicated to raising awareness and funds for poverty through art exhibitions. EARNING Honours with Distinction, Aiman was in the top 5% of her graduating class. She served on the Executive in Student Council, was the secretary of the Colours Multicultural Club, was a member of the Student Wellness and Action Team and served on the Yearbook Committee. She was a keynote speaker for the region's annual Human Rights Day event and represented the community through her scientific research, artwork, published stories and motivational speeches.
Ms. Naeem's wants to be a role model for other girls – including visible minorities. She wants to inspire them to continue learning and to seek out education. She wants to exemplify the motto that" success is dependent only on hard work and determination. "She wants girls to pursue fields they are passionate about, even if they are underrepresented in them, such as engineering.
Makayla Farrell
Ms. Farrell is entering her 4th year at the University of Alberta where she is earning her degree in postsecondary education with a bachelor of science – majoring in biology with a minor in economics. Her passion is learning about life, the human body and the world around her. She aspires to have a career in health sciences where she can change the lives of others. Always encouraged to follow her dreams, Ms. Farrell plans on attending medical school to become a neonatal doctor ,  after she completes her undergraduate degree. Her long term goals are to work with Operation Smile  , where she will work in third world countries and help children who suffer from cleft lip and palate. She also wants to continue to work with individuals with special needs. She feels compelled to make a difference in the lives of others who struggle with everyday tasks that most take for granted.
Ms. Farrell's community service includes being a mentor with Big Brothers/ Big Sisters where she spends 2-3 hours per week mentoring a child. She provides her little sister with experiences and a safe environment to help her grow and flourish. She spent a summer volunteering with Camp Health, Hope and Happiness. This camp works with individuals of all ages with mental and physical disabilities. Ms. Farrell in 2014 went to Haiti on a medical mission to provide medical care to over 1000 patients who may never have gotten medical attention .
Ms. Farrell is also involved with the Lister Hall student association. She assisted in organizing programs to relieve stress, advocate for mental health awareness as well they raised money for various charities such as Kid Sport and the Heart and Stroke Foundation.
Makayla is an avid supporter of the Fort McMurray art world and was an actress in main stage productions of All Shook and Hometown the Musical. She is connected to her community and has dreams for her future.
Girls Inc. of Northern Alberta are proud to help these amazing young women pursue their career goals. We are honoured to be able to be a small part of their development into the next generation of Inspirational Women.
For more information about the Women of Inspiration series or the Educational scholarship, please visit our website at www.girlsincofnorthernalberta.org or contact the Girls Inc. office at 780-790-9236
For more information, please contact:
Ann Dort MacLean Executive Director Girls Inc. of Northern Alberta Phone: 780-790-9236
Email: girlsinc@telus.net